04 Sep

Harvesting fruits and vegetables in Wal-Mart's produce department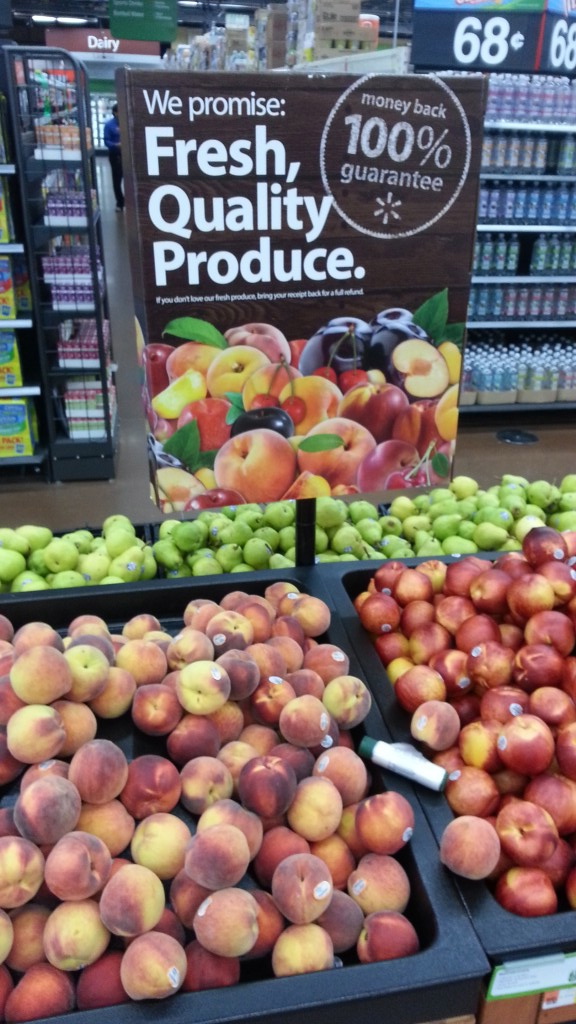 Not happy? No problem. 100% money back guarantee. No questions asked.
Nectarines. Clementines. Queen Ann Cherries. Corn. Green beans. Broccoli. Salad. Sounds like a typical grocery list, right? It is, in fact, Wal-Mart store manager Anthony Autry's favorite fruits and vegetables. A 36-year grocery store veteran, Autrey has seen his fair share of produce departments. He's called Wal-Mart home for the last eleven of those years and his pride shone for the company and it's strong commitment to fresh produce during my recent store tour.
Anthony enlightened me on 5 key initiatives the Wal-Mart team does to ensure the high quality, fresh produce that are in the stores each and every day. All were unexpected to me—and I used to work in a grocery store!
1. Produce deliveries arrive every. single. day.
2. Their commitment to local farmers such as Gentry Farms in Decatur, TX is evident with colorful signage and large displays of product front and center in the department.
3. On going training through the Produce Portal, a computer based program designed to to support growth, learning and development for their employees.
4. Store to Community program. If, at any time, a customer requests a certain produce item, Autrey and his team, with blessings from upper management, will do whatever it takes to get that item in the store. All you have to do is ask.
5. Undercover "secret shoppers" who visit the department and the store weekly and provide immediate feedback to upper management, which, if not up to spec, requires an action plan to rectify any issues.
The thing that impressed me the most? The wide variety of items I'd never expect to see at Wal-Mart including:
Disclaimer: I've been compensated for this post as a member of the Wal Mart Fresh Crew Blogger Team. All thoughts and opinions are my own.