03 Jun

National Egg Day: Blueberry Walnut Oat-less Oatmeal

Intern Kylie here wishing you the very happiest National Egg Day!

If that bowl of cereal for breakfast is sounding less than exciting, how about switching up your breakfast routine with something a little different?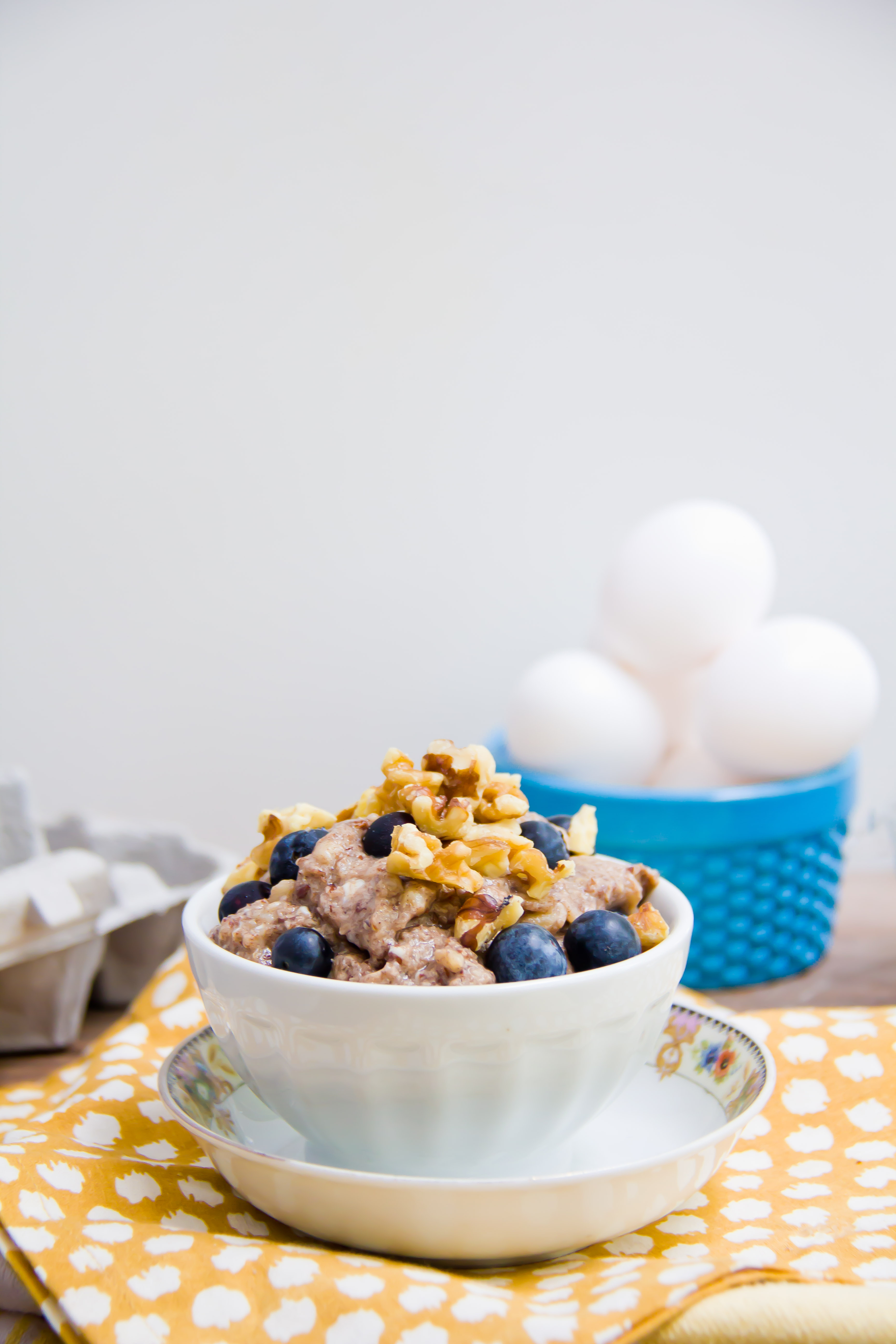 How about something that is slightly reminiscent of cobbler (minus the ice cream and picnic setting) that is warm and creamy and covered with fresh berries?
For me, this breakfast is one of those meals that makes me jump out of bed in the morning because I'm so excited to eat it. It's incredibly fluffy and light, yet it somehow manages to be filling and a perfect way to start your day. Especially a day such as National Egg Day. You simply whisk together some egg whites, flaxseed and mashed banana and you're 10 minutes away from an egg-credible (had to do it) breakfast.
The egg + banana combination may sound a little ummm unique…but for the sake of a delicious breakfast, I recommend you give it a try. No, actually more than recommend. I urge you to give it a try. I would attempt to persuade you more but I already used all my persuasive skills by telling you it tastes like cobbler..
Blueberry Walnut Oat-less Oatmeal
serves 1
1/2 cup milk (almond, cow, hemp, coconut…you choose)
3 egg whites
2 Tbsp ground flaxseed
1 banana, mashed
1 tsp cinnamon
1/2 tsp vanilla
1/4 cup blueberries
2 Tbsp walnuts, chopped
drizzle of honey
Thoroughly whisk together egg whites and milk (you don't want pieces of egg white to show up in your 'oatmeal,' so whisk until your forearm muscles cramp up).
Mix in the ground flaxseed, mashed banana, cinnamon and vanilla. Pour mixture into a sauce pan and heat over medium heat, stir frequently and scrap the bottom of the pan (like you would if you were cooking scrambled eggs). Cook until the mixture thickens to an oatmeal consistency. About 10-15 minutes. Serve hot topped with blueberries, walnuts and drizzle of honey.