25 Sep

Inside the Fridge welcomes vegan author Ginny Messina

Ginny Messina, MPH, RD writes and speaks about vegetarian and vegan diets for both the public and health professionals. She is the co-author of Vegan for Life and Vegan for Her and has also co-authored the textbook The Dietitians' Guide to Vegetarian Diets. Ginny lives in Port Townsend, Washington with her husband and an ever-changing population of rescued cats. She blogs at TheVeganRD.com and VeganForHer.com and is TheVeganRD on twitter and facebook.

Where do you shop for food?

I shop at the local grocery stores (Safeway and QFC) and at the Port Townsend Food Co-op which is a pleasant 10-minute walk from my house. Once a month or so I make the trek to Costco and Trader Joe's, about an hour away. In the summer, I get lots of food from my veggie garden, too.

Do you love food shopping or dread it?

I wouldn't say I exactly dread it, but I can usually think of about a dozen things I'd rather be doing or need to be doing. If I can get my husband to shop for us, I'm happy to leave it to him.

What is the single most important thing on your mind when you are shopping for food?

It all matters to me—buying healthy food that I enjoy and that can be easily prepared. Cost matters, too, but with so many factors to consider, it often takes a back seat to the others.

How often do you shop?

Usually twice a week.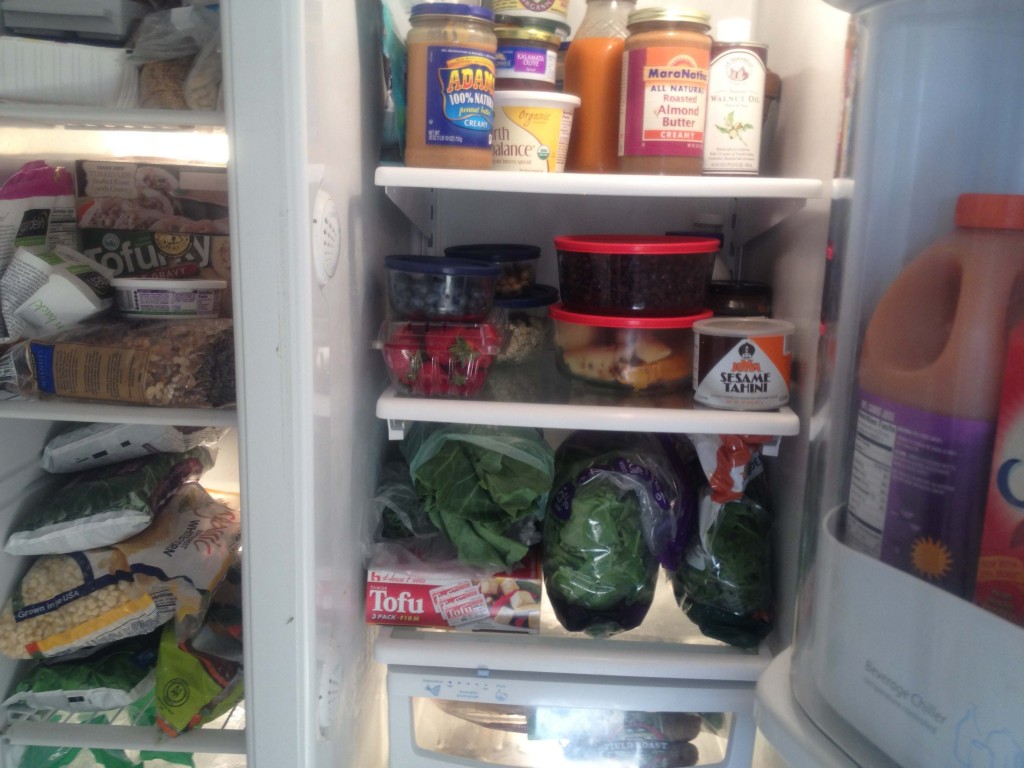 How many do you shop for?
Just my husband and me.
What is your weekly food budget?
I don't have one. I buy what I need and am always horrified by the bill!
How many times a week do you eat out? (based on 21 meals/week)
Less than once a week. One of the reasons I let myself spend more money at the grocery store is that we don't spend much money eating out. We might get together with friends at a restaurant once a month or so and I occasionally have lunch with a friend. I live in a small town where the vegan options are pretty dismal for the most part. I suspect that if I lived in an urban area, I'd go out a lot more.
How do you plan your weekly meals? Create a spreadsheet or fly by the seat of your pants?
Not exactly a spreadsheet—although I'm very much a spreadsheet type of person. But I bulk cook on the weekend so that most of my food is prepared for the week. And I tend to eat a lot of the same basics—black beans, sweet potatoes, quinoa, lentils—and then vary them with sauces and condiments throughout the week.
What is the most coveted food in the fridge right now for each member of the household?
For my husband, it's the carrot juice, which he absolutely loves—something I don't understand at all since I wouldn't touch the stuff! For me, it's sweet potato hummus wraps I made this week. I'm also really enjoying the spicy peanut sauce I have on hand right now, which I eat over everything—greens and sweet potatoes and rice especially.
What is the oldest item in the fridge right now?
The condiments on the fridge door tend to stick around for a while. Right now, there are some capers of unknown vintage in there. And the hummingbird food powder is at least a year old.
Do you believe in leftovers?
Absolutely—my bulk cooking is sort of a leftover-dependent plan.
What convenience product can you not live without?
Probably Daiya cheese. I make huge batches of black bean burritos to freeze once a month or so, and a little sprinkle of Daiya is such an easy way to make them special.
What brands do you swear by? Why?
For veggie meats, Tofurky, Field Roast and Gardein are all reliably excellent. And the above mentioned Daiya cheese. I always have Vegenaise vegan mayo on hand, too.
What cooking utensil/piece of equipment/appliance do you live for?
My food processor. It was a wedding gift 30 years ago and is still going strong.
When you hear the word "homemade" what is the first thing that comes to mind?
Vegetable soup.
What food/s are important when recalling food memories?
I grew up in New Jersey, the Garden State, and summer meals were built around farm stand produce like tomatoes and corn on the cob—both of which are better in New Jersey than anywhere else in the world. So when I can find good versions of those foods, they bring back childhood memories.
What was the last meal you cooked from scratch?
Potato and garbanzo bean salad with walnut vinaigrette.
What was the last meal you cooked from convenience products?
Pasta with sauce from a jar and sliced veggie sausage.
If one person could cook for you tonight, who would it be?
My mom.
What words of wisdom or advice do you have for other folks who are doing their best every day to fill the fridge?
Since I advocate veganism, I want people to know how easy and satisfying it is to eat a diet that celebrates compassion. Build meals around the basics—beans, greens, and grains—and then pack the fridge with condiments, sauces, toasted nuts, and whatever convenience foods make it easy to pull healthy meals together fast.
What are you working on these days that you'd like to tell us about?
I'm working on a book for vegans (or veg-curious folks) over the age of 50 called "Never Too Late to Go Vegan." I've actually been writing books pretty much non-stop for the past four years, so I'm also working on getting back into the swing of my blog TheVeganRD.com and working to build the VeganForHer.com website.
Thank you Ginny!
If you would like to be featured on Inside the Fridge, please email RobinsBite intern Jaime Ruisi- Jaime@robinplotkin.com