28 Nov

Inside the Fridge: Stacy Cash

Inside the Fridge welcomes Stacy Cash! Stacy is a native Houstonian and a former carnivore.  Growing up in Texas, meat was a staple in her life and when she decided to become  a vegetarian her mother looked at her and said "Stacy, we are carnivorous in this family.  You can eat meat or you can eat nothing."  She ate peanut butter for two years, which was totally ok for her because peanut butter would be her last meal if she had a choice.  Eventually, she went back to eating meat and learned that cooking  and buying fresh food calmed her.  She enjoyed cooking for and with friends.  As a lawyer with a stressful job she enjoyed reading about the healing properties of different foods and diets which led her to her most recent challenge to the fridge and kitchen: a vegan diet.  She has found the diet both challenging and rewarding.  Challenging because it requires a lot of fresh food and trips to the grocery store and a lot of preparation before stepping out of the house each day.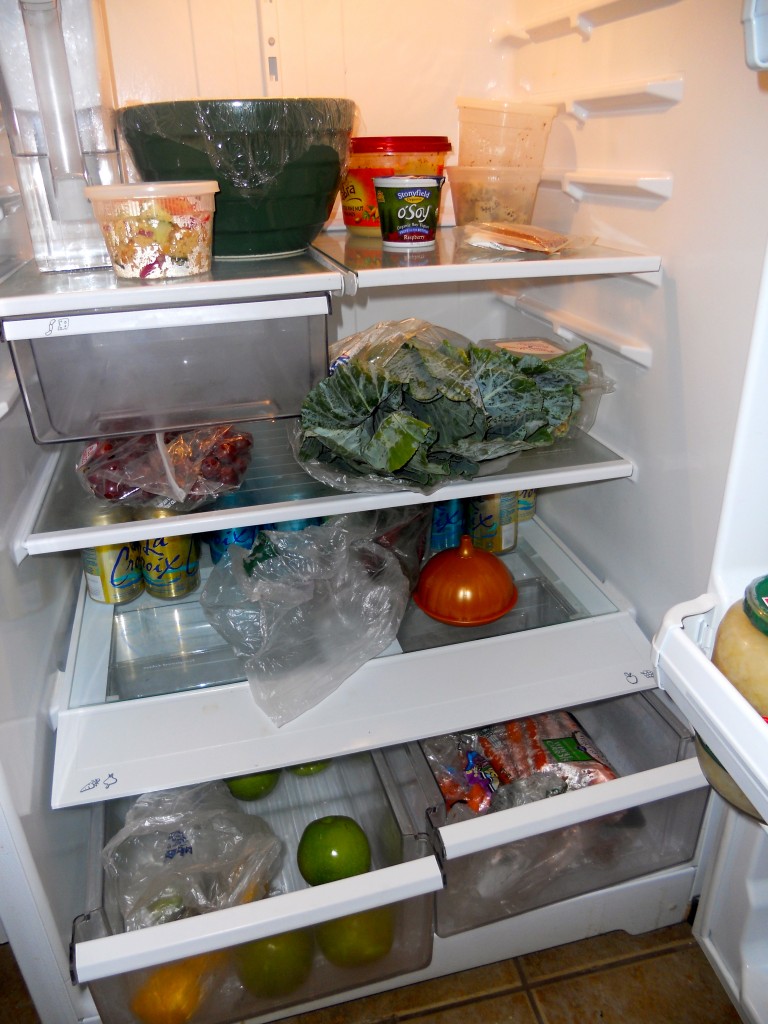 ITF: Do you love food shopping or dread it?
SC: I LOVE shopping for food.  I find going to the grocery store exciting every time and I find it so empowering to buy fresh food and come up with a recipe for preparing it.
ITF. How often do you shop?
SC: With my busy schedule,  I try to squeeze all my grocery needs into one shopping trip a week.  However, since incorporating a vegan diet I find I often need to go more than once a week to pick up more fresh produce.
ITF: What is your weekly food budget?
SC: I generally spend anywhere from $40.00 to $70.00 a week on food.  It varies and I think once I am more accustomed to the new diet I will have a more stable food budget.
ITF: How many times a week do you eat out? (based on 21 meals/week)
SC: I do not eat out often.  I much prefer cooking my own meals and being informed about what exact ingredients were used in the preparation of my food.  Plus, I feel as though it is not only rewarding to cook for myself but economical as well, aka I'm cheap.
ITF: How do you plan your weekly meals? Create a spreadsheet of fly by the seat of your pants?
SC: I am a creature of habit and so my shopping list is pretty similar each week with one or two extra recipes thrown in.  I have no problem with leftovers so I will pick a new recipe and prepare a big batch of that and eat it throughout the week.  I am a recipe girl and often don't stray from the recipe.
ITF: What is the most coveted food in the fridge right now for each member of the household? Why?
SC: My new obsession is collard greens.  I found this recipe in Alicia Silverstone's "The Kind Diet" that  mixes roasted pumpkin seeds, raisins, garlic, collards and balsamic.  It's so delicious I eat it for breakfast.
ITF: What is the oldest item in the fridge right now?
My condiments.  I use them so infrequently they  just sit there.  Everything else gets rotated out.  I don't buy what I wont eat.
ITF: What brands do you swear by? Why?
SC: Morningstar farms veggie breakfast sausages.  I  ate them even when I ate meat they are so delicious.
ITF: How have your cooking/shopping habits changed over the last 10 years?
SC: They have matured with me.  I have experimented, gathered new recipes from friends or family members and acquired more equipment.  When I was young it was a matter of making something simple and cheap.  I had no idea about flavors or different cooking techniques.  I just needed to make sure my food was completely microwaved.
ITF: What are your go-to food/nutrition/culinary/cooking website/s, book or cookbook?
SC: The Joy of Cooking has been my favorite go to cookbook for years.  It is not because it has great recipes, but because if you have a question about anything, the answer is in that book.  It often gives you basic information that is left out of a general recipe like basic cutting techniques or how to cook foods you may have never encountered before.  Whenever I try something new I take a look to make sure I am preparing the food properly.  I never would have known to salt eggplant had I not read the introduction to eggplant in that book.
ITF: What was the last meal you cooked from scratch?
SC: I made a butter bean casserole with butter beans, tomatoes, and onion.  I had never eaten butter beans before but they were incredibly rich and delicious.
ITF: What was the last meal you cooked from convenience products?
SC: I made "herbed feta" with packaged tofu.  It is this great recipe where you actually create a brine for the tofu with oregano, feta and lemon juice.  Tofu marinated in this brine comes out tasting like feta cheese.  It is delicious.
ITF: What words of wisdom or advice do you have for other folks who are doing their best every day to fill the fridge?
SC: Learning to fill your fridge is an art and it takes time.  You have to learn not only what you like but what you will actually eat before it all goes to waste.
Thank you Stacy!!
Please email leah@robinplotkin.com, if you're interested in contributing to Inside the Fridge.