22 Nov

Grandma Eleanor's Cranberry Relish

Saying good bye to the jelled cranberry log that slithered out of a can wasn't hard to do once I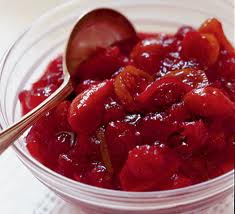 found Grandma Eleanor's Cranberry Relish recipe.
My Aunt's mother-in-law, Eleanor, called me (and everyone else) "Baby Doll". In her honor, I post this awesome recipe-it's easy, colorful and rounds out the Thanksgiving table. Keep it in your back pocket throughout the year-just freeze those cranberries that are so plentiful and inexpensive this time of year.
Grandma Eleanor's Cranberry Relish 
1, 12 oz pkg cranberries
1 apple peeled and cut into chunks ( I like to use Gala)
½ cup water
1 large can crushed pineapple with juice
1 cup sugar
Wash off cranberries first and discard soft or bad ones.  Bring water and sugar to a boil to dissolve sugar. Add  apple. Add cranberries and cook til soft on medium or medium high heat til boiling and stir.  Take off heat and add crushed.  Pineapple with juice.  Stir and chill.  Can freeze.
Photo: bbcgoodfood.com