12 Jul

Cucumbers + Onions + Vinegar Salad

Note: Due to popular demand, this is a repost of my 2010 cucumber + onion + vinegar salad recipe. Many thanks to Kylie Held for her beautiful photos.

Nothing says summer to me more than the good old Cucumber + Onion + Vinegar Salad. Growing up, we always had a bowl of this in the fridge-white onions, Kirby cucumbers, vinegar, water, salt and a bit of dill. My mom would write it on the grocery list as "cucs -n- onions"-that way she knew all the ingredients she needed for the dish. Today, there is a Tupperware container that sits in my fridge- nearly all summer long- that is full of the same ingredients. I simply replenish each ingredient as needed. (Don't worry-I wash out the container once in a while, too.)
When I make these, I emphasize the vinegar. That's right-the more vinegar, the better. I love the sour/bitter taste it leaves when the first drop hits my tongue. I know, I know….some of you will say it tastes sour, some will say bitter and some will say it just tastes—vinegar-y.
A normal ratio would be 2-3 parts water to 1 part vinegar, but I prefer mostly vinegar with a large splash of water. Now I know that there are no quantities listed-and that is for a reason. For this salad, you go by taste-not measurement-to get the flavor you are looking for to make it refreshing on a hot summer day. Trust yourself. You can't screw this up-I promise!
Cucs -n- Onions
English Cucumbers-washed, peeled and sliced into thin rounds
White Onion-sliced in rings or crescent shapes
Fresh Dill
White Vinegar
Salt to taste
Water
Many people ask "what about sugar?". Yes, many recipes for this type of salad call for sugar. Truth be told-its not needed. One quick way to eliminate added sugar from your calories! This salad is so light, cool, thirst quenching–not to mention filling!
There is so much to know about vinegar-there are so many types-balsamic,red wine, white wine, champagne, sherry, rice, apple cider, malt, fruit infused, etc. My favorite right now is white balsamic vinegar. Try drizzling it over salads mostly with a bit of olive oil, salt and pepper.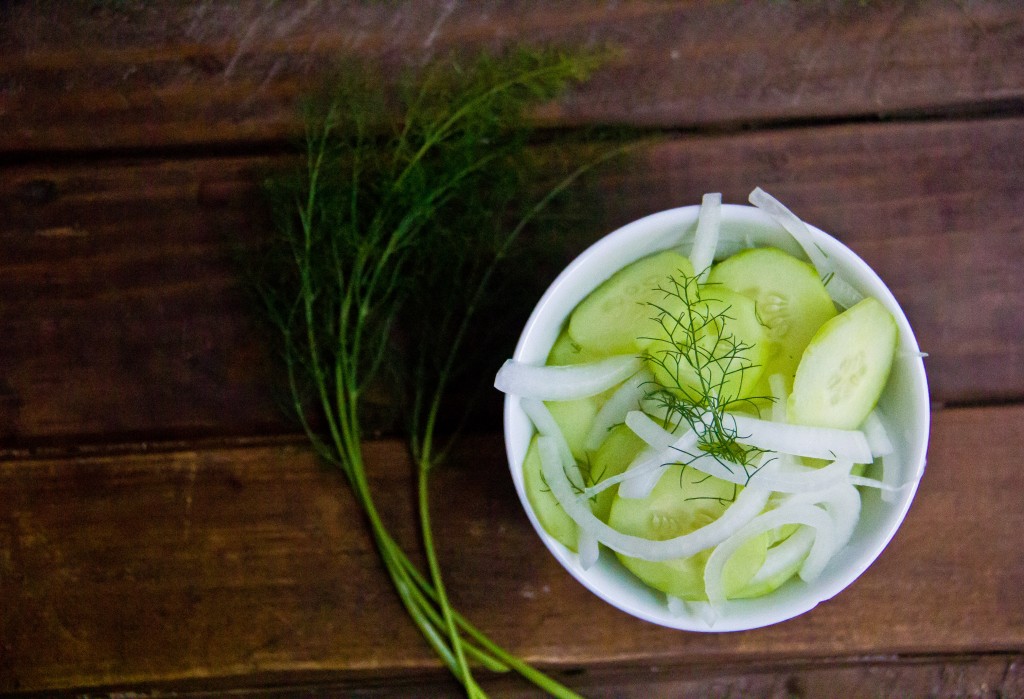 What says summer to you besides the old stand-bys of watermelon, sweet corn, home grown tomatoes and fresh picked blueberries? Would love to see what food memories summer conjures up for you!