06 Apr

This Easter, don't forget the soup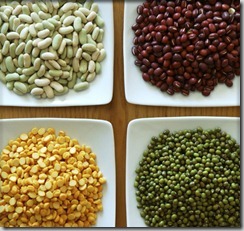 Hey everyone – RobinsBite intern Laura here! While everyone is running around preparing for Easter this Sunday, so many of us forget about the other meals we need to eat over the holiday weekend. I know I did until a few days ago…
So what is my suggestion for you? A easy crock pot soup, that can cook itself while you make all the other necessary preparations!
Robin often makes fun of my love of soup. It can be 100 degrees outside in good 'ol Dallas and I'll still be down for a bowl of soup! My favorite? The black bean soup from Central Market. I covet this soup, schedule my day around it, and dream of it. And every attempt I've had at recreating it has failed.
Then recently, while testing recipes for the Northharvest Bean Grower's Association upcoming meeting on April 27th (more info below)– Robin showed me the recipe for her homemade black bean crock pot soup. I was skeptical and unfortunately not present for the final product. Oh ye of little faith I was, because I recently made it and was blown away – it was identical to my beloved soup, and at a fraction of the price. I definitely recommend you try this soup, and soon!
Crock Pot Black Bean Soup
1 pound dried black beans
1 onion
1 small jalapeno
2-3 cloves garlic
2 Tablespoons cumin
1 jar salsa
1 quart low sodium vegetable stock
1 bunch fresh cilantro
Optional toppings:
Salt and pepper to taste (add after soup is made)
Non-fat plain Greek yogurt
Cheddar Cheese
Tortilla chips
Soak beans overnight or using a quick soak method.
Dice onion, jalapeno and garlic and add to crock pot with soaked dried beans, cumin, salsa and vegetable stock. Cook on low for 8 hours or high for 4 hours.
Tip: Do not add salt until after beans are cooked. Salt will cause beans to stay tender and will have to be cooked longer.
Blend soup with immersion or stick blender and add chopped cilantro. Season with salt and pepper to taste.
Top soup with non-fat Greek yogurt (in place or sour cream), cheddar cheese or tortilla chips.
To learn more about cooking with dried beans, visit the Northharvest Bean Grower's Association website and sign up for their newsletter. Or register to attend the "Beans for a Better Life" seminar in Austin on April 27th. Robin will be speaking!
Photo credit: Epicureal