18 Dec

Inside the Fridge welcomes Farmer's Market fan Sarah Koszyk

Sarah Koszyk, MA, RD is the founder of Family. Food. Fiesta, a family-based wellness program and blog where she revamps favorite recipes the entire family can enjoy and cooks with kids in the kitchen. She is a Nutrition Coach at Eating Free, an online adult weight management program. She also provides in-person nutrition coaching at an award-winning private practice, MV Nutrition, in San Francisco, CA, where she specializes in sports nutrition and adult and pediatric weight management. You can connect with her on Facebook, Twitter, or LinkedIn.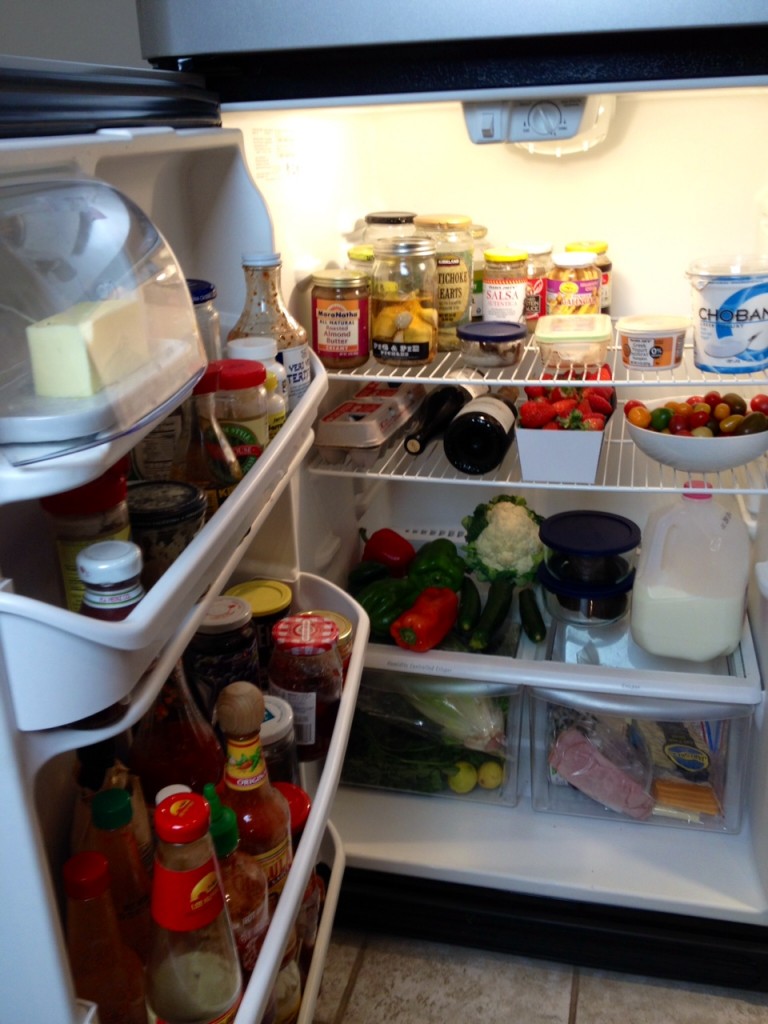 Where do you shop for food?
I'm so lucky to live in San Francisco where local and organic food is abundant. I shop for my produce, eggs, fish & nuts at the farmer's market near my house every Sunday & Wednesday. Across the street from my home is a family-owned market that only sells products from local farmers within a 100 mile radius of San Francisco. I get my meat, milk, daily fresh bread, and cheese from them (sometimes produce when I run out). For my grains, beans, spices, and bulk items, I go to a co-op nearby. Trader Joe's is the spot for canned or frozen goods and some dairy products.
Do you love food shopping or dread it?
I LOVE IT! I look forward to shopping at the farmer's market . It's one of my "me times" and I'm completely at ease and relaxed. The weather here is great most of the year, so shopping outdoors is a pleasurable experience.
What is the single most important thing on your mind when you are shopping for food?
Remembering everything I need and staying focused. I plan my menus before going shopping so I have a specific list. I try to stick to my list and not buy extra items that look good. This way, we buy just what we need and don't waste.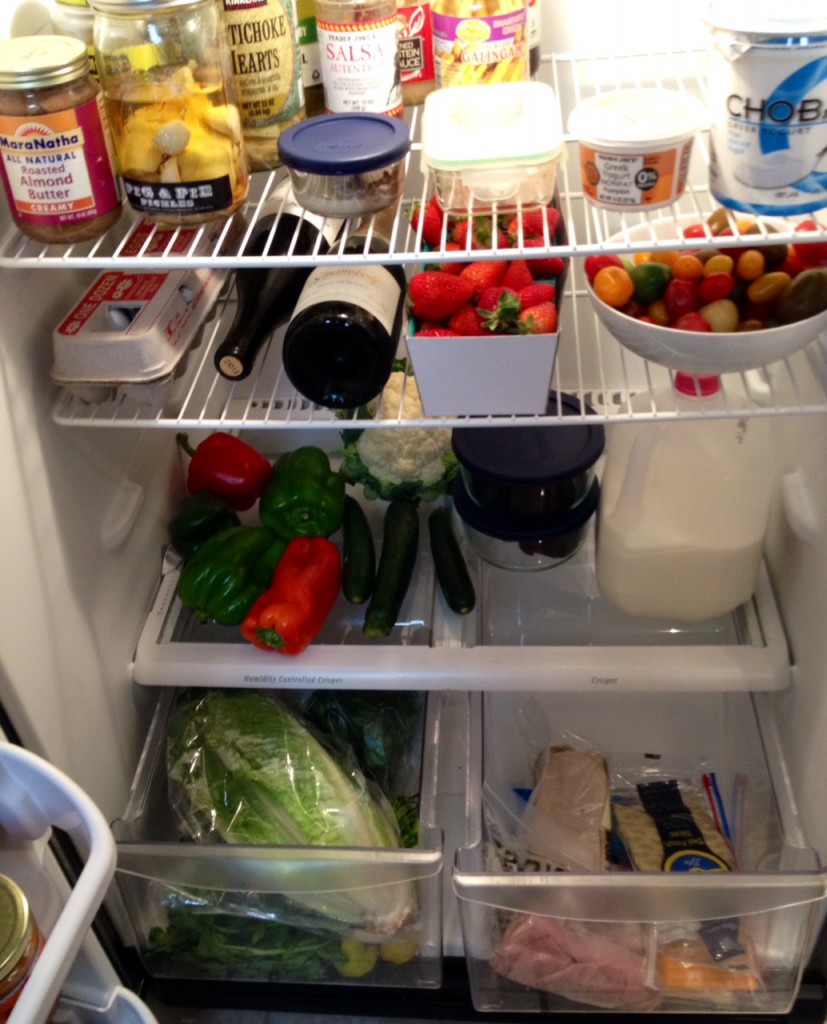 How often do you shop?
Twice a week for most goods. I buy fresh bread every other day from the local market. (Sourdough from San Francisco rocks!) My husband loves his sandwiches for lunch. When we eat seafood, I buy that the day-of from either the farmer's market or the market across from my house.
How do you plan your weekly meals? Create a spreadsheet of fly by the seat of your pants?
I plan our weekly meals including breakfast, lunches, snacks, and dinners. I use a piece of paper and make a list. It's relaxing for me and goes pretty fast since I've been doing it for so long.
What is the most coveted food in the fridge right now for each member of the household? Why?
It's fall season and I've been obsessed with Pumpkin Nonfat Greek Yogurt from Trader Joe's. It's a complete snack in one: delicious and extremely satisfying! I LOVE pumpkin anything! My husband's most coveted food in the fridge is his milk. He loves Peet's coffee and adds milk and brown sugar to the caffeine kick.
What is the oldest item in the fridge right now?
Pickled Galingale/galangal. I took a Thai cooking class while on vacation in Thailand. When I came home, I continued to make the Thai dishes. However, the recipes don't call for much of it, so that jar has been lasting awhile. It's not moldy yet!
Do you believe in leftovers?
Yes! I cook for an army and my daily lunch consists of leftovers from dinner. I'll cook 1-2 big meals a week and eat the leftovers for lunch the entire work week.
When you hear the word "homemade" what is the first thing that comes to mind?
Pasta sauce. My husband's Italian so jarred pasta sauce is prohibited in our home. We make the sauce fresh. Here's a link to his classic homemade marinara and turkey meatball recipe!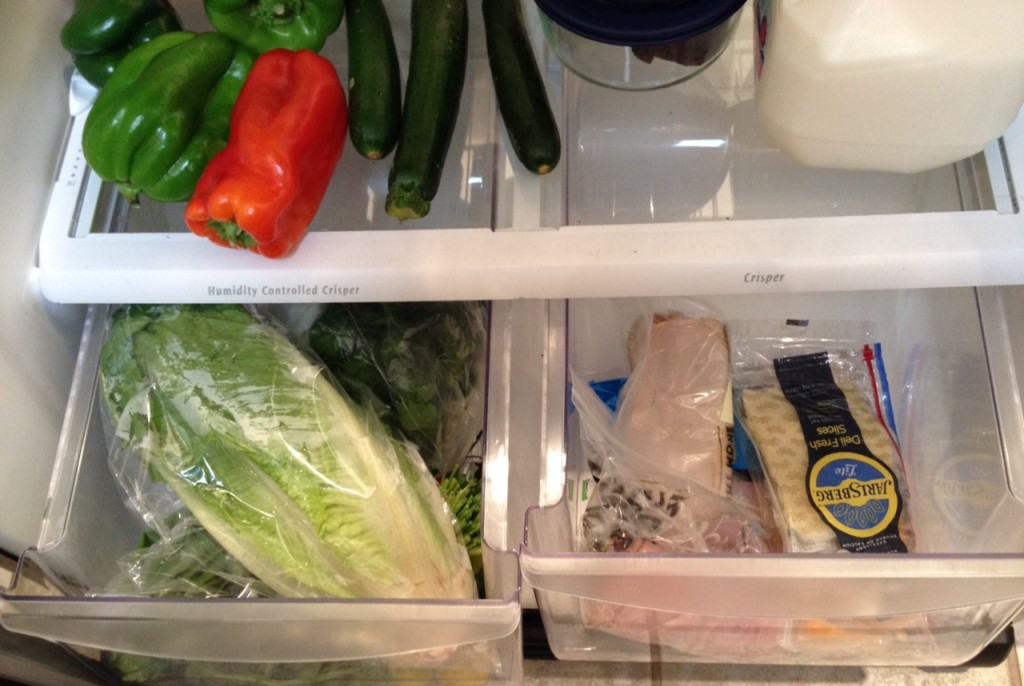 What was the last meal you cooked from scratch?
Salmon baked in parchment paper with lemon, cilantro, and salt/pepper. We ate it with herb-roasted sweet potatoes and sautéed green beans. The colors on the plate were vibrant and the flavors of the food were tasty.
If one person could cook for you tonight, who would it be?
My Grandpa. He's Croatian and he cooked amazing Mediterranean-inspired food using olive oil, fresh tomatoes, seafood, and herbs. The food was so simple in preparation. Yet, my Grandpa was able to bring out the natural succulent flavors of the fresh produce and fish where every mouthful just burst with taste. Yuummm….I'm getting hungry just thinking about his cooking.
What words of wisdom or advice do you have for other folks who are doing their best every day to fill the fridge?
Make sure you have fruits and veggies available for a quick, easy, and healthy snack. I like pairing my fruits with a cheese stick and my veggies with a dip like hummus. What do you like to eat your fruits and veggies with?
What are you working on these days that you'd like to tell us about?
I've been happily cooking with kids in the kitchen making delicious and easy after school snacks and meals. Check out our videos and see what snacks and meals your kids can make!
Thanks Sarah!
If you would like to be featured on Inside the Fridge, please contact Robinsbite intern, Jaime – Jaime@robinplotkin.com