02 Oct

Inside the Fridge Welcomes Zumba Instructor Laura DeAngelis

Laura DeAngelis is an independent personal trainer in New York City who received her certification through the National Academy of Sports Medicine (NASM). She's also a certified Group Exercise Instructor through the Aerobics & Fitness Association of America (AFAA) and a Licensed Zumba® Instructor. While fitness has been a lifelong passion, Laura's career has spanned the worlds of broadcast journalism, TV hosting and corporate video production. For more of Laura's health and fitness tips, check out her blog atLauraLovesFitness.com. You can also connect with her LauraLovesFitness Facebook page, Twitter and Instagram.

Where do you shop for food?

I have two great markets in my neighborhood, Trader Joe's and Fairway. Both have a nice selection of fresh produce and healthy food options and have good deals compared to pricier grocery stores in New York City.

Do you love food shopping or dread it?

As long as I get to Trader Joe's or Fairway before 10 am on Saturday or Sunday morning and beat the long lines, I don't mind food shopping one bit. As I buy pretty much the same staples every week, I know exactly what aisles to go to for my choices and get out of the store without a hassle.

How often do you shop?

I tend to get my staples once a week. If I need to restock on something like strawberries or bananas, I'll buy them from a street vendor in my neighborhood and avoid going back to a crowded store with long lines.

How many do you shop for? Ages?

I live alone, so I get to put all my favorites on my shopping list. (Of course, when friends or family visit, I love adding a few "splurge" items that go with good conversation and wine!)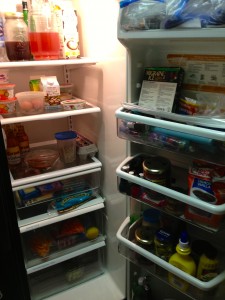 How many times a week do you eat out? (based on 21 meals/week)
Living in New York City, it is easy to fall into the "trap" of eating out for nearly every meal of the week. However, in order to keep things healthy and also keep my budget under control, I try to limit eating out to no more than five or six meals each week. Depending on my social calendar, that could mean I enjoy dinner out two or three times in a week and have a couple of networking lunches in between jobs.
How do you plan your weekly meals? Create a spreadsheet of fly by the seat of your pants?
I don't create a spreadsheet, but I may write a note in my iPhone outlining what I should defrost on different days of the week. I spend about 30-40 minutes on Sundays chopping the fruits and veggies I buy so I have grab-and-go bags or containers of things like carrots, celery sticks and red, orange and green pepper strips that last throughout the week. I also keep my freezer stocked with frozen fish, chicken, lean steaks and veggies. For easy dinners, I'll defrost a protein of choice in my fridge during the day and then "nuke" a bag of veggies to go with it for dinner. I'll also cook sweet potatoes in the microwave if I need a little something extra.
What is the oldest item in the fridge right now?
It's probably a close tie between the squeeze bottle of deli-style mustard and a bottle of Bloody Mary mix.
What convenience product can you not live without?
Frozen veggies are wonderful for my lifestyle. Whether I'm grilling a piece of tilapia or making whole grain pasta, adding a serving of broccoli or spinach adds some great nutrition and flavor. I also can't live without nonfat plain Greek yogurt. Not only is it perfect for a protein-packed breakfast or snack – especially when you add almonds and berries – but it's also a great "dip" for carrots or celery sticks AND a perfect topping for a baked or sweet potato. I'm also a big fan of 94% fat-free microwave popcorn. It takes some time to get through a bag and that alone keeps me from reaching for a higher-calorie, easy-to-scarf down snack.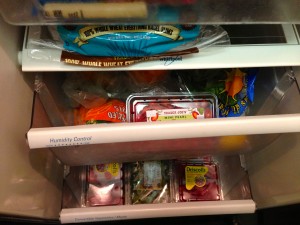 What cooking utensil/piece of equipment/appliance do you live for?
I love my hard-boiled egg slicer. When I do my veggie and fruit chopping prep on the weekends, I also boil at least a half-dozen eggs. Then I can grab one or two for a quick snack or part of my lunch. By slicing them, it takes a little longer to finish one. Anything that helps me eat more slowly is a plus in my book.
What food/s are important when recalling food memories?
Pasatini. It's a soup from my maternal grandmother's native San Marino. It has only a few ingredients: bread crumbs, parmesan cheese, lemon rind and eggs. It's all mixed together into a "paste" and then put through a cheese grater. You cook up what comes out in boiling chicken broth. My mom and I have been making it every Christmas together for at least a decade now so, I can't think of anything that makes for a better food memory!
How have your cooking/shopping habits changed over the last 10 years?
I used to buy a lot of pre-packaged low-calorie / low-fat frozen meals or snacks. Then I realized many of them are full of sodium and preservatives and quite honestly, they didn't fill me up for very long. So I decided to start buying my own proteins, veggies and whole grain "bulk-ups" and figured out how to put them together in no-fuss fashion.
What was the last meal you cooked from scratch?
Grilled tilapia, boiled farro and diced tomatoes and eggplant from Dad's garden with lots of seasonings.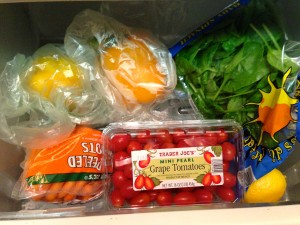 If one person could cook for you tonight, who would it be?
Bobby Flay. I've been to his restaurants here in New York City and love his menus!
What words of wisdom or advice do you have for other folks who are doing their best every day to fill the fridge?
There's definitely something to be said about the advice to never go food shopping when you're hungry. If you're a woman, make sure you're not hungry AND dealing with PMS. You'll end up stocking up on impulse items that may not be the healthiest of choices. I tend not to put things in my fridge or pantry that I know are my weaknesses. For example, unless I'm having company, things like cookies or cupcakes never come home with me. I can never eat just one, so not having the temptation at home makes it a lot easier to resist it.
Anything else?
I'd like to wrap up with a reminder that a healthy diet and exercise really do go hand-in-hand. Most people wouldn't dream of putting "junk" gasoline in a race car, so you shouldn't want to put "junk" into the most important machine in your life – your body. When you fuel yourself with healthy food, you'll see better results from your workouts and have more energy to take on whatever the day throws at you.
Thanks Laura!
If you would like to be featured on Inside the Fridge, please email RobinsBite intern Jaime Ruisi-Jaime@robinplotkin.com