08 Aug

Inside the Fridge: Matt Ruscigno

Inside the Fridge welcomes Matt Ruscigno! To call Matt an athlete might be a bit of an understatement. From iron-distance triathlons, to ultra runs and cycling events, this car-free Californian eats, sleeps, and breaths good health. Matt is a vegan and a Registered Dietitian with a Masters in Public Health. His professional career parallels his athleticism, from teaching community college, to working in public health and private practice. Matt believes that health, ethics, and adventure go hand in hand. In need of a little "healthy adventure" in your life? Visit Matt's blog at www.truelovehealth.com.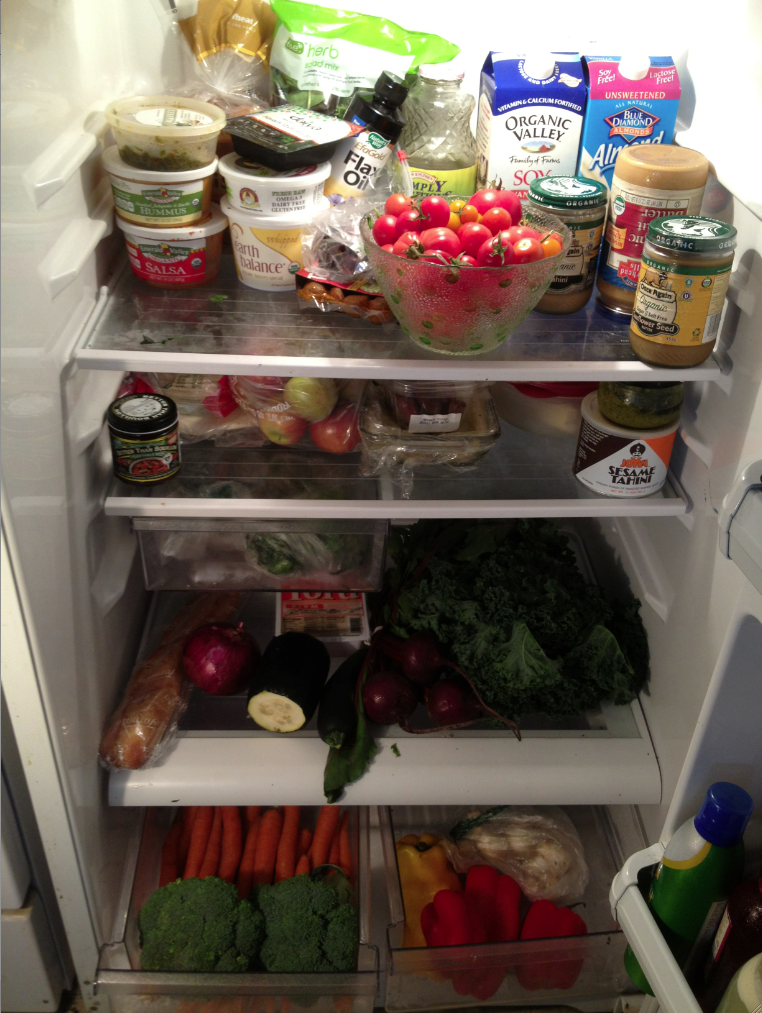 ITF:  Where do you shop for food?
MR: There's an all-vegetarian co-op grocery store in my neighborhood- it's where I get most of my food. Also farmers markets, my own garden, the big health food chains and Asian markets.
ITF: Do you love food shopping or dread it?
MR: I love it! I'm always looking for new foods or something I've never eaten before. Though people dread shopping with me because I take a long time looking at, feeling and smelling everything.
ITF: What is the single most important thing on your mind when you are shopping for food?
MR: Price! I live like a poor college student and as an athlete my caloric needs are about 3000-5000 calories a day. I'm always looking at the nutrient and calorie value per dollar. It's fun and challenging!
ITF: How often do you shop?
MR: At least 5-7 times a week. Since I don't have a car and get around by bicycle it's much easier to stop off at store quickly and grab a few things. That way it's fresher and I can be more spontaneous with my meals.
ITF: How many times a week do you eat out? (based on 21 meals/week)
MR: I think I have a burrito addiction so I'm at a taqueria or burrito shop at least 2 or 3 times a week.
ITF: How do you plan your weekly meals? Create a spreadsheet of fly by the seat of your pants?
MR: I'll usually plan one fun thing like pizza from scratch but otherwise I don't think about it until I'm hungry and ride past the store or wander into the kitchen. In addition to the food in my fridge I keep well-stocked cabinets and lots of fresh fruit out on the kitchen table. I'm constantly snacking on tangelos, apples, bananas and whatever fruits are in season.
ITF: What is the most coveted food in the fridge right now for each member of the household? Why?
MR: Peanut butter and other nut butters because they are so versatile. I use them with fruit, in sauces, as dressings; so many options for healthy, cheap calories. In this fridge photo you can see 4 different jars!
ITF: Do you believe in leftovers?
MR: There are people who don't? I often make extra of everything- in the fridge right now are leftover roasted vegetable enchiladas, lentils and quinoa.
ITF: What convenience product can you not live without?
MR: I hate to admit this, but I'm a huge fan of Daiya Vegan Cheese. I use to only buy it for pizzas but now I use it more regularly. And that new soft one is unbelievable.
ITF: What cooking utensil/piece of equipment/appliance do you live for?
MR: Cast-iron skillet. It's one of my prized possessions. Best $8 I ever spent! Also a high-quality blender and food processor are awesome tools that make life so much easier.
ITF: When you hear the word "homemade" what is the first thing that comes to mind?
MR: Tomato sauce! Though she calls it gravy, when I was a kid my mom would make tomato sauce from scratch. She taught me that preparing food at home isn't only better tasting and cheaper, it's a fun, worthwhile process.
ITF: What are your go-to food/nutrition/culinary/cooking website/s, book or cookbook?
MR: I still have my first cookbooks from when I was a teenager: Simply Vegan and Ecological Cooking. Other favorites are Please Don't Feed the Bears, In Search of the Lost Taste, Becoming Raw and Vegan with a Vengeance. 
ITF: What was the last meal you cooked from scratch?
MR: For my partner and some visiting friends I made fajita burritos: Spanish rice, spicy pinto beans, sauteed bell peppers, onions and broccoli with avocado wrapped in local handmade tortillas.
ITF: If one person could cook for you tonight, who would it be?
MR: Joshua Ploeg. He's a self-taught chef and makes the most elaborate, complex meals I have ever had the privilege of eating.
ITF: What words of wisdom or advice do you have for other folks who are doing their best every day to fill the fridge?
MR: Healthy food doesn't have to be fancy or expensive! Learning a few tricks like making delicious sauteed veggies with garlic and onions and creamy sauces out of nut butters is healthy, fast and cheap. Sriracha and soy sauce can go a long way!
ITF: What are you working on these days that you'd like to tell us about?
MR: I've a video project with a film-maker that is A Day in the Life of Vegan Athletes showing what they eat and how they train. Our goal is to show that you can be vegan and an athlete! It's great to get behind the scenes and see what these athletes' lives are really like. It has been such a fun experience and we've been able to cook and eat with some amazing people!
Follow Matt at www.twitter.com/truelovehealth or visit his blog at www.truelovehealth.com.
If you would like to be featured on Inside the Fridge, please email RobinsBite Intern Leah-Leah@robinplotkin.com