10 Oct

How to add fiber to recipes for better health

Listen. I'm going to get a little personal here. It's out of character for me, I realize. But here we go.

I'm going to talk to you about bowels. Yep. As in moving your bowels. If you're uncomfortable or want to turn away now, I'll allow it, but I wouldn't recommend it. This information is important..and we need to talk about it.

Let's just say that if my husband and I were on the Newlywed Game and the question posed to him was "Name one thing has the potential of ruining your wife's day" he would answer without hesitation, "Constipation". He's right. Misery ensues for me-and him-when this occurs.

Yes. Constipation. As a registered dietitian, I know that the #1 way to avoid and/or alleviate constipation is to consume the magic that is known as fiber. 25-35 grams a day. Not only does fiber help, ahem, clean the pipes, it helps promote a healthy heart. Since my grandfather, father and older brother all had heart attacks at young ages, my family history makes me susceptible to heart disease. Fiber can also make you feel full, so it's a critical tool for those who are looking to lose weight or maintain a healthy weight. I'm such a fan of fiber that my family and friends know that if I'm cooking, they'll be getting a healthy dose of it. Often times, they're aware of the fiber in their food …and sometimes, they aren't so aware.

There's no question that it's tough to get enough fiber throughout the day with just the foods we eat. Enter my secret weapon-Metamucil. Yep. Metamucil. I've used it in chocolate chip cookie pies, pancake mixes, smoothies and have mixed it into oatmeal and sprinkled it on top of cold cereals. By adding just 1 rounded teaspoon, it bumps up the fiber content of these recipes by 3 grams—and I never add just 1 teaspoon. Nobody knows the difference.

I'm really fortunate and very excited to announce that I'm partnering with the folks at Meta as they launch their new line of products to support wellness with MultiHealth benefits to help keep you healthy from the inside out.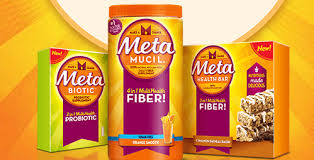 The line includes:
Metamucil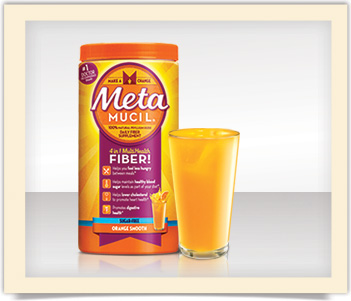 A MultiHealth fiber supplement made with 100% natural psyllium fiber. The psyllim fiber helps lower cholesterol to promote heart health, helps maintain healthy blood sugar levels as part of your diet, * promotes digestive health and helps you feel less hungry between meals*. This is my go-to product for recipes.
What the heck is psyllium (silly-YUM) fiber?
It's actually the husk of a seed from the Plantago ovata plant. The US imports the psyllium husk from its native land of India. It's clinically proven to help lower cholesterol levels because it forms a thick gel that traps the bile acid (cholesterol) and helps it pass through the digestive system.
Meta Health Bars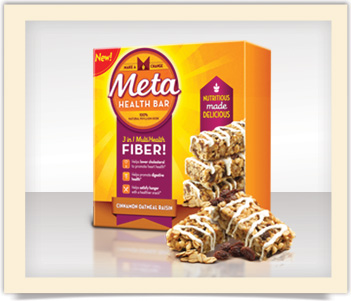 These bars also contain psyllium fiber and help to lower cholesterol and promote digestive health**. They are a perfect snack that you'll actually feel satisfied after eating. When I tell you the cinnamon oatmeal raisin bars taste exactly like a cinnamon oatmeal raisin cookie, I'm not lying.
And MetaBiotic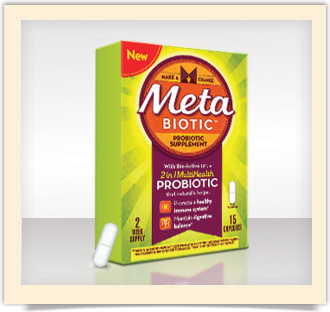 MetaBiotic is a2-in-1 Multi Health probiotic supplement with with Bio-Active 12™ that naturally helps promote a healthy immune system and helps maintain digestive balance. Probiotics are the "good" bacteria that help keep our GI tract healthy.
*This statement has not been evaluated by the Food and Drug Administration. This product is not intended to diagnose, treat, cure or prevent any disease.
**Diets low in saturated fat and cholesterol that include 7 grams of soluble fiber per day from psyllium husk, as in Metamucil, may reduce the risk of heart disease by lowering cholesterol. One serving of Metamucil has 2.4 grams of this soluble fiber.
Keep watching the blog for more information and recipes using the Meta Line of health products.
For more info: www.metawellness.com
Disclaimer: I'm a paid spokesperson for Meta and was compensated to write this post.