31 Oct

Halloween Food Memories: A Sweet Celebration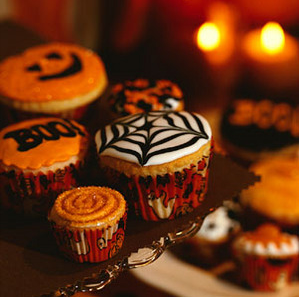 Caramel Apples, Pumpkin Seeds, Hot Apple Cider, Tricks and Treats…Sometimes just a subtle scent will bring back your fondest childhood food memories. In order to celebrate Halloween, we asked a few people to share their memories and traditions of this sweet celebration.
I kept my pillow case-completely bursting at the seams with treats which my parents didn't pare down or investigate in any way-under my bed for what seemed like months, to be nibbled whenever I wanted…basically until Christmas time. Now that I have my own children, I have on many occasions ribbed my parents and asked them "what were you thinking?"
Kate Gegan, MS, RD, America's Green Nutritionist and  Author of Go Green Get Lean Nutritionist
For some reason, I LOVE a chili dog on Halloween.  As in chili, hot dog, and hot dog bun with mustard on top.  So yes, the husband, myself, and Mireille (our daughter) will all have a chili dog today.  Call it our Halloween tradition!
Shelly Marie Redmond, MS, RD, LDN, Founder and CEO of College Lifestyles
We carved pumpkins and roasted pumpkin seeds with our son for the very first time. While I only added salt to the seeds prior to baking, they were the sweetest seeds I'd ever eaten…all because of the experience with my son!
Mom's homemade caramel apples, neatly organized on wax paper, bring me right back to our cozy kitchen. My job was to unwrap the caramels and toss them into the pot, although I'm pretty sure the majority ended up in my mouth. I thought I was sneaky, but my sticky fingers and caramel coated lips were hard to disguise. 
Leah Wakefield, Intern at Robin Plotkin, RD, LD
Every Halloween, while my son Cole was growing up, my friends and I had a Halloween dinner for the kids. All the food had to be black and orange. We had orange jello, black olives, squash soup, pizza, carrots, oranges, brownies, chocolate cake, black and orange candles,  etc.. one of the worst things we ever had was peanut butter squash soup!  But the memories are great! 
Our children always looked forward to the popcorn balls, packaged with tender loving care by our friendly neighbor, Mary Jane and they loved digging for worms in the dirt cake.
What are your favorite Halloween food memories? 
Wishing you all a safe, savory and happy Halloween!