26 Nov

Gluten Free Carrot and Sweet Potato Latkes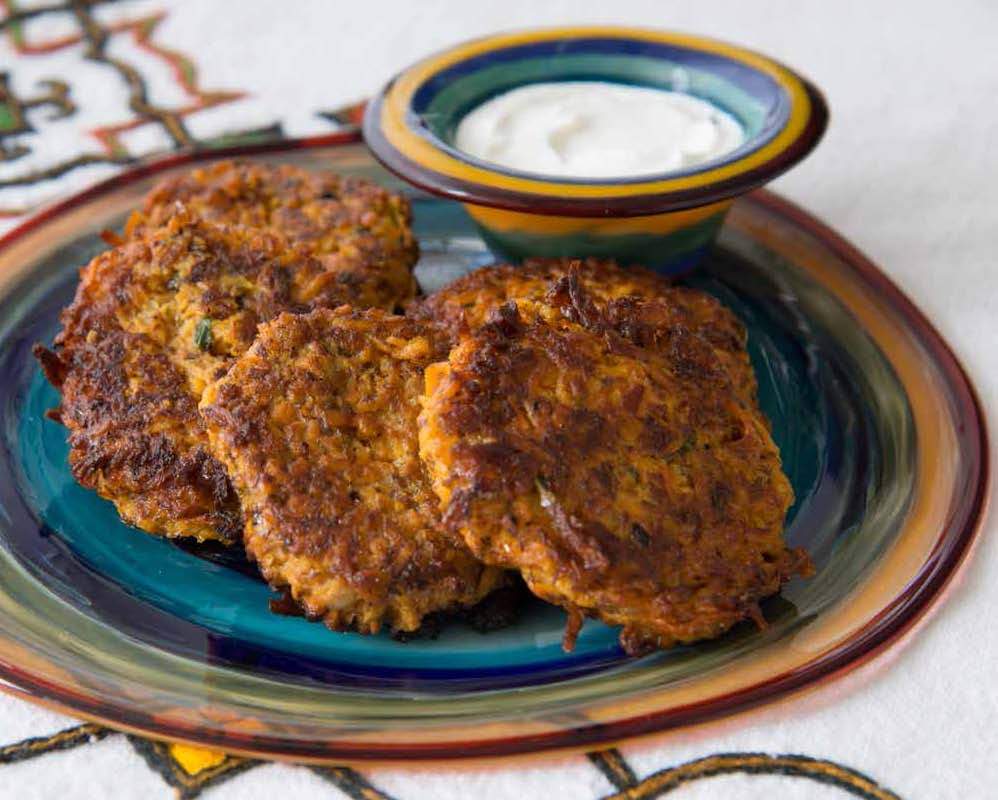 Our Jewish culinary forefathers likely had no idea that the need for a gluten-free latke would be needed in the year 2013. But Jewish food historian and cookbook author Tina Wasserman was thinking ahead in her latest book Entree to Judaism for Families: Jewish Cooking and Kitchen Conversations for Children (URJPress). In fact, she created a latke specifically for one of her readers who could not consume gluten.
Her Sweet Potato and Carrot latkes are gluten free, thanks to the removal of traditional matzoh meal or flour from the recipe. Wasserman instead adds teff, the smallest cultivated grain in the world. Mild and nutty in flavor, teff packs calcium, fiber and protein and can be used as a hot cereal or added to stews, baked goods and even veggie burgers.
Tina says:
Teff has a mild, slightly molasses-like sweetness that goes well with many vegetables besides those in this recipe. Ground teff seeds are the basis for injera bread, that spongy, slightly sour, soft flat bread that is used as an edible plate and fork at Ethiopian meals. Teff can be found in many supermarkets. Whole Foods and other health-oriented supermarket chains as well as health food stores will carry it. As an alternative, I suggest ground flax seed which will also help the latkes hold together.
Carrot and Sweet Potato Latkes (Gluten Free)
Ingredients
1 pound sweet potatoes, peeled
½ pound carrots, peeled
1 small onion, cut into eighths
1 large clove garlic, cut into 3 pieces
1 teaspoon salt or to taste
15 grindings of black pepper
½ teaspoon powdered ginger
½ teaspoon dried or fresh oregano, chopped
½ teaspoon dried or fresh basil, chopped
2 large eggs
¼-1/3 cup teff flour or ground flaxseed
Canola or peanut oil for frying
Greek yogurt or sour cream for garnish (optional)
Preparation
Cut the sweet potatoes and carrots into 1 ½ inch chunks and grate them using the fine grating disk on a processor or using the larger holes on a hand grater. Set aside in a 3-quart bowl.
Place onion and garlic pieces in a processor work bowl with the metal blade. Pulse the machine on and off until the onions are finely chopped. Return half of the potato/carrot mixture to the processor and pulse on and off about 5 times to combine the ingredients. Empty mixture into the bowl with the rest of the sweet potatoes and carrots. If you don't have a processor, grate the onion first and chop some of the potato carrot mixture into a fine chop.
To the mixture, add the spices and eggs and ¼ cup of the teff or ground flaxseed to the mixing bowl and mix thoroughly. Add a little more grain if mixture seems too loose and watery. Do not make the mixture too firm or finished product will be dry and heavy.
Heat a large skillet or griddle for 20 seconds. Add enough oil to totally cover the bottom of the pan. Heat oil for 10 seconds. Each time before you scoop up some of the mixture, mix contents of bowl. Drop 2 tablespoons of potato/carrots into the hot pan to form each latke. Repeat with more mixture to fill pan but do not over crowd. When bottoms of pancakes are golden, gently turn them over using two slotted spatulas. When golden on the second side remove to a plate that is covered with crumpled paper towels, which gives you more surface area to absorb the excess oil on the latkes than just laying down multiple sheets of paper. Younger children love to do this step and feel like they are helping out. Proceed with the remaining mixture. Serve plain or with a dollop of sour cream or Greek yogur
Disclaimer: I'm a paid consultant for Tina Wasserman's Entree to Judaism for Families: Jewish Cooking and Kitchen Conversations, but I was not compensated for this post. Thoughts and opinions are my own.